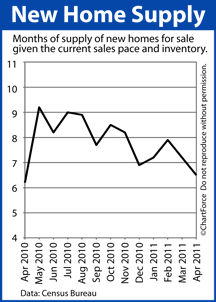 Sales of newly-built homes surprised Wall Street, jumping 7 percent to an seasonally-adjusted, annualized 323,000 units last month.
In addition, the supply of new homes dropped to 6.5 months — a 2-month decrease from October 2010 and the best reading in a year.
The report runs counter to recent reports from the National Association of Homebuilders and the National Association of REALTORS® which suggest a looming housing slowdown. April's New Home Sales report runs counter to that theory; it shows ongoing, steady, staggered improvement in terms of sales volume and sales inventory.
Broken-down by sales prices, the New Home Sales report also showed that homes are selling across all price tiers. The "luxury market" improved most:
Up to $199,999 : +1,000 homes from March
$200,000 to $399,999 : +2,000 homes from March
$400,000 and over : +3,000 homes from March
These figures suggest that that move-up buyers — not first-timers — are driving the new home market. Homes under $200,000 now account for just 40% new home sales, down from 46% a year ago.
However, as with most months, it's important that we recognize the New Home Sales data's margin of error. Although New Home Sales showed a 7% improvement in April, the reported margin of error was ±17%. This means that the actual reading could have been as high as 24 percent, or as low as -10 percent. 
It's a huge range, and because it encompasses both positive and negative values, the Census Bureau assigned its April reading "zero confidence". It's right there in the footnotes.
For home buyers in St Paul , rising sales and falling supply may mean higher home prices. And, combined with the issuance of fewer building permits, supplies may be constrained into the summer months. This, too, would pressure home prices higher.