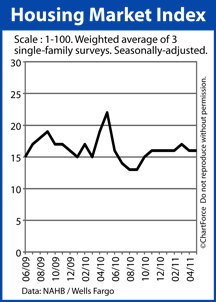 Home builder confidence can't shake its range, according to the National Association of Home Builders. The group's monthly Housing Market Index put May's builder confidence reading at a level of 16.
The Housing Market Index is scored on a scale of 1-100. A reading above 50 suggests favorable conditions for the new home housing market, as reported by home builders. A reading below 50 suggests unfavorable conditions.
May marks the sixth time in 7 months that the HMI posted a 16, the longest such plateau in the index's history.
The HMI has not posted higher than 50 since April 2006.
As an index, the HMI is a composite of three separate surveys sent to home builders each month. The surveys are meant to capture the current and projected single-family home sales volume, in addition to buyer foot traffic levels.
Versus April, there was little change:
Current single-family sales : 16 (+1 from April)
Projected single-family sales : 20 (-2 from April)
Buyer foot traffic : 14 (+1 from April)
Broken down, the Housing Market Index for May shows that home builders are experiencing a boost in sales and foot traffic today, but expect that boost to fade between today and November. For home buyers in St Paul , this can present an opportunity.
With home builder confidence stagnating, and with a worsening sales expectation for the next 6 months, builders may be more willing to negotiate with you on home prices and/or the costs of upgrades. Builders may also be more willing to make concessions in your sales contract that would otherwise be unavailable to you.
Your real estate agent can help you to identify the negotiable items of your offer.
In addition, today's home buyers can exploit the recent strength of the mortgage market. Surging mortgage bond demand since April has pushed mortgage rates down to their lowest levels of the year. If you can find a home you love, therefore, it can be financed on the (relative) cheap, too.
Conforming mortgage rates in Minnesota fell through 5 consecutive weeks before rising last week.