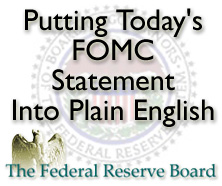 Earlier today, the Federal Open Market Committee voted to leave the Fed Funds Rate unchanged within its current target range of 0.000-0.250 percent.
The vote was 10-0 — the third straight meeting after which the FOMC vote was unanimous.
In its press release, the FOMC noted that since its March 2011 meeting, the economic recovery is proceeding "at a moderate pace" and that labor markets conditions are "improving gradually". Household spending and business investment "continue[s] to expand" but the housing sector remains "depressed".
Furthermore, the FOMC's statement discussed the Federal Reserve's dual mandate of (1) Managing inflation levels, and (2) Fostering maximum employment. The statement acknowledged recent inflation pressures on the economy, but it expects those pressures — because they're related to oil and food prices — to be "transitory". Unemployment remains "elevated".
The FOMC statement also re-affirms the group's plan to keep the Fed Funds Rate near zero percent "for an extended period" of time, and to keep its $600 billion bond market support package — more commonly called "QE2" — intact.
The statement's verbiage suggests that a third support package may be created after QE2 ends in June 2011, depending on the needs of the economy.
Mortgage market reaction to the FOMC statement has been positive thus far. Mortgage rates in St Paul are unchanged, but leaning lower. And, as always, market sentiment could shift quickly. If you like today's mortgage rates, consider locking in.
The FOMC's next scheduled meeting is a 2-day event, June 20-21 2011.