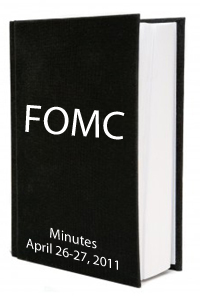 The Federal Reserve released its April 2011 Federal Open Market Committee meeting minutes Wednesday. In the hours since, mortgage markets have worsened; rates in Minnesota are higher by 1/8 percent this morning, at least.
The "Fed Minutes" is published 8 times annually, three week after each scheduled FOMC meeting. The minutes are the Federal Reserve's official recap of the conversations and debates that shaped the prior FOMC session.
Another way to consider the Fed Minutes is as the companion piece to the more well-known FOMC press release. The press release is issued on the day of adjournment, and is brief, narrow, and high-level. The statement makes broad comments on the economy and outlines new monetary policy.
By contrast, the Fed Minutes is delayed, lengthy, and rife with details. The minutes highlights arguments and discussion points between Fed members, and digs deep into underlying economic issues.
The FOMC press release is measured in paragraphs. The Fed Minutes is measured in pages.
Here is some of what the Fed discussed last month:
On inflation : Higher levels are "transitory"; will level-off with commodity prices
On housing : The market remains depressed. "Vacant properties" are harming construction.
On stimulus : The Fed will stick to its $600 billion support plan
In addition, at its meeting, the Federal Reserve discussed an exit strategy for its market support. The details are undecided, but the debate shows that the Fed is anticipated a change in policy sometime soon. 
Wall Street estimates that a gradual economic tightening will begin within 12 months.
Mortgage rates have been fading since mid-April. The Fed Minutes may be the catalyst of a reversal. The Federal Reserve expects growth in the U.S. economy and growth tends to boost stock markets at the expense of bonds.
As bond markets fall, mortgage rates in St Paul rise.
Currently, Freddie Mac reports the average 30-year fixed mortgage rate as 4.63% — the lowest of the year.